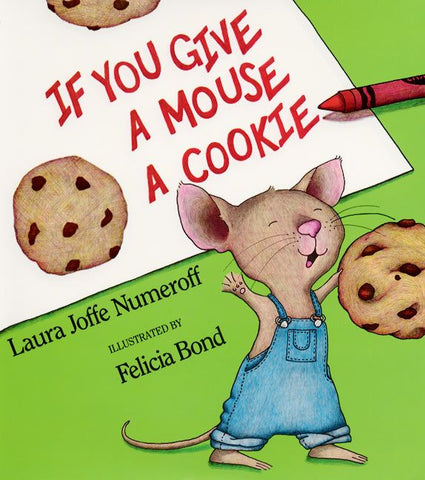 If You Give a Mouse a Cookie by Laura Joffe Numeroff (Big Book)
Note: This is a "Big Book" version
If a hungry little traveler shows up at your house, you might want to give him a cookie. If you give him a cookie, he's going to ask for a glass of milk. He'll want to look in a mirror to make sure he doesn't have a milk mustache, and then he'll ask for a pair of scissors to give himself a trim....

The consequences of giving a cookie to this energetic mouse run the young host ragged, but young readers will come away smiling at the antics that tumble like dominoes through the pages of this delightful picture book.
*Despite our best efforts to predict the demand for books, the magical spells we use sometimes fail us. So to check if we have the book in-stock before you place your order, contact us at 6702 2452 or drop us an email at myimaginationkingdom@gmail.com
Reading Level: 4+
Reviews:
"If you Give a Mouse a Cookie is one book from the series written by Laura Joffe Numeroff. This book is fun and humorous as it starts out by a boy eating a cookie. The boy spots a mouse and offers a cookie to the mouse, but this starts a long line of giving and taking between the mouse and the boy. The mouse then asks for a glass of milk, a straw, a napkin, and so on. The illustrations in this story are crucial because they so clearly depict what is taking place. If readers struggle with certain words they most definitely could figure out the story line by looking at the pictures. As a child I loved this series because the mouse was so cute and the fact that he could eat a cookie was hilarious to me, just hearing of this story puts a smile on my face. I would recommend this story to children in grades K-3."
"I know, it probably seems odd for a 23 year old to give a children's book such a good review, but this has always been, and still is, one of my all time favorite books. If You Give a Mouse a Cookie was one of the first books that I read. It was in my elementary school's library, and if you go to that school and find the book it probably still has my name stamped in the back of it a hundred times. I love the continuous progression of the story and the mouse's needs. It is sure to make any child laugh and possibly some adults, too. One thing is for certain, the mouse in the book is the neediest mouse I've ever met!"
Click here to read the original reviews
Related products