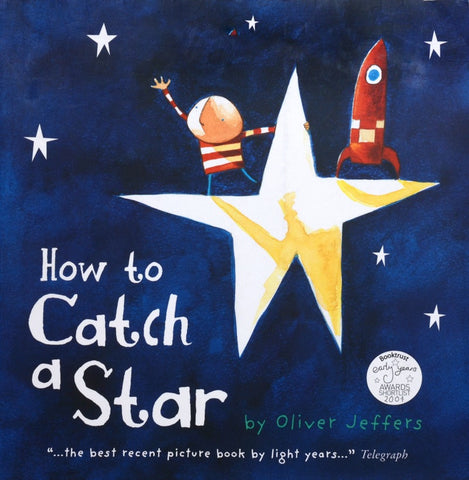 How to Catch a Star by Oliver Jeffers (Hardback)
Once there was a boy, and that boy loved stars very much. So much so that he decided to catch one of his very own. But how? Waiting for them to grow tired from being up in the sky all night doesn't work. Climbing to the top of the tallest tree? No, not tall enough. The boy has a rocket ship . . . but it is made of paper and doesn't fly well at all. Finally, just when the boy is ready to give up, he learns that sometimes things aren't where, or what, we expect them to be.
First-time author/illustrator Oliver Jeffers offers a simple, childlike tale of reaching for the stars, and emerging with a friend.
*Despite our best efforts to predict the demand for books, the magical spells we use sometimes fail us. So to check if we have the book in-stock before you place your order, contact us at 6702 2452 or drop us an email at myimaginationkingdom@gmail.com
Reading Level: 3+
Reviews:
"'HOW TO CATCH A STAR' is a story about a young boy who loves stars and wants to catch a star of his own. When he wakes up one morning he sees there are no stars in the sky so he waits and waits. Finally the sun sets and the boy sees a star and sets out to catch it.How will he ever catch the star? the story is written from the viewpoint of the child,therefore the reasoning and imagination is child like. This is a very sweet story and I would recommend it for children from 5 up. The book has very good illustration and can be found in a large format.children can explore this book in a cross-curricular way.links to Art and PHSE can be easily made. E.g Exploring night scene with different water colours.The book touches on the idea that if you try hard enough you can achieve or do anything, even if it seems impossible. This is a good philosophy for all children, young and old, to embrace and believe.this is something that could lead a circle time discussion with EYF and KS1."
"How to Catch a Star by Oliver Jeffers is amongst one of the most beautiful contemporary children books I have read. I read the book to a Reception Class while on placement. Even though they had already heard the story each one was more than happy to hear it again and again.
The story is told in very basic style in which children are encouraged to dream and reach out for the impossible. It tells the tale of an unnamed boy's quest to catch himself a star from the sky. He sees the stars in the sky one night and decides he would rather like one of those himself, so he wakes up earlier and tries all manner of things to get one. However, none of these seem to work and he begins to lose hope. Eventually, his patience wins out and the little boy manages to get what's he always wanted - a star.
Oliver Jeffers does his own illustrations, they are unique in style, and genuinely quite beautiful which only compliments the simple heart warming story."
Click here for the original reviews
Related products