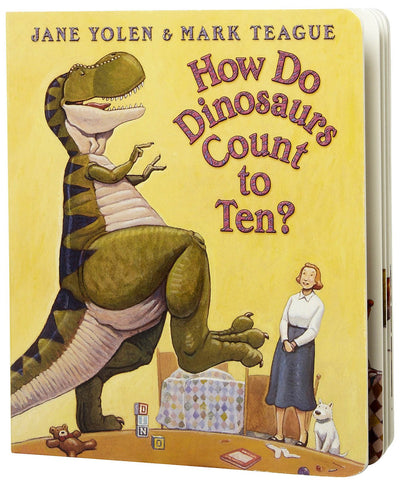 How Do Dinosaurs Count to Ten? by Jane Yolen (Board Book)
The bestselling, award-winning team of Yolen and Teague present their beloved dinosaurs in a new format with this fun, read-aloud board book that teaches young children to count from one to ten!

Come along for some BIG fun as your favorite dinosaurs delight young readers with their playful antics. How do dinosaurs count to ten? Over and over and over again!

This brand new board book format brings the gigantic humor of bestselling, award-winning team Jane Yolen and Mark Teague to the youngest readers, helping them learn to count from one to ten with a simple, rhyming text and laugh-out-loud illustrations! A perfect companion book to the other HOW DO DINOSAURS tales, and a great baby gift as well.
*Despite our best efforts to predict the demand for books, the magical spells we use sometimes fail us. So to check if we have the book in-stock before you place your order, contact us at 6702 2452 or drop us an email at myimaginationkingdom@gmail.com
Reading Level: 3+
Reviews:
"I think this is my 15 month old's favorite book. While he can't count and doesn't really have a concept of numbers, he DOES understand balls, socks, and balloons (among the other things counted). And the pages have withstood his new teeth somehow. I'm including this in my list because at this point I have it memorized. (Dinosaur counting starts with one, one tattered teddy bear, just for fun )."
"Big hit, recognizable dinosaur species and a rhyme scheme do a lot to capture Charlotte's attention. She doesn't like generic dinosaurs, she wants to be able to tell you what species it is. A feature I liked of this book is that on every page, the dinosaur species was written somewhere, so you could say, "Actually, babe, that's an apatasaurus, not a brachiasaurus" and look like Dr. Scott the Paleontologist."
Click here to read the original review. 
Related products