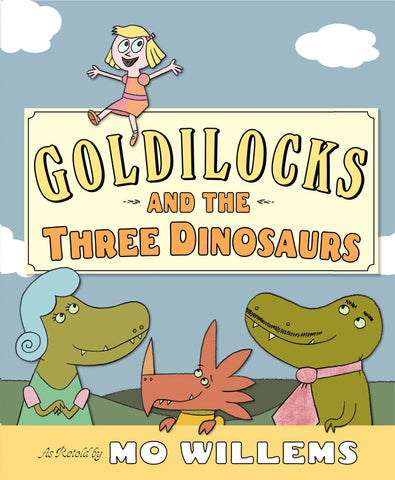 Goldilocks and the Three Dinosaurs by Mo Willems (Hardback)
Once upon a time, there were three hungry Dinosaurs: Papa Dinosaur, Mama Dinosaur . . . and a Dinosaur who happened to be visiting from Norway.

One day--for no particular reason--they decided to tidy up their house, make the beds, and prepare pudding of varying temperatures. And then--for no particular reason--they decided to go...someplace else. They were definitely NOT setting a trap for some succulent, unsupervised little girl.

Definitely not!

This new take on a fairy-tale classic is so funny and so original--it could only come from the brilliant mind of Mo Willems.
*Despite our best efforts to predict the demand for books, the magical spells we use sometimes fail us. So to check if we have the book in-stock before you place your order, contact us at 6702 2452 or drop us an email at myimaginationkingdom@gmail.com
Reading Level: 5+
Reviews:
"Oh, this was a hoot. Delightful and so entertaining, and I was a bit deliciously scared, or would have been when younger. The reader/listener is in on all the jokes, more so than anyone else. The front and back inside covers are full of wonderfully amusing alternate titles. My very favorite page was the second to last page, and I might just add it to my quotes: [ "If you ever find yourself in the wrong story, leave.""
"We love Mo Willems. His books are so humorous, and the illustrations are so clever and fun. We love this snarky version of the classic Goldilocks And The Three Bears story. The narrative is silly, but entertaining and the illustrations are colorful and cartoonish.

We enjoyed reading this book together, and our girls loved the endpages with the listing of different titles, like "Goldilocks and the Three Squirrels," "Goldilocks and the Three Clams," "Goldilocks and the Three Red Herring," "Goldilocks and the Three Major Networks," and "Goldilocks and the Three Foot-Long Hoagies." It kept us laughing for quite a long time. "
Click here for the original reviews
Related products