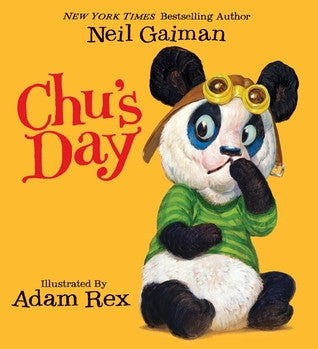 Chu's Day by Neil Gaiman (Hardback)
Chu is a little panda with a big sneeze.
When Chu sneezes, bad things happen.
In dusty library, diner pepper, circus tent,
Will Chu sneeze today?
*Despite our best efforts to predict the demand for books, the magical spells we use sometimes fail us. So to check if we have the book in-stock before you place your order, contact us at 6702 2452 or drop us an email at myimaginationkingdom@gmail.com
Reading Level: 4+
Reviews:
""AAH, AAAAH, AAAAAH--"

Chu's Day is absolutely adorable! Adam Rex has created the cutest little panda! Haha…I usually don't gush about cuteness, but really I couldn't help it with Chu. Look at those eyes! :)

Neil Gaiman and Adam Rex make Chu's day jump off the page with clear, vibrant colors and surprises on every page. Look close and you will see magic in every nook and cranny! The mice on the mini-computers in the library made me smile, point at the page and giggle. Hehe….A picture book of pure cuteness that will show readers sneezes happen. We just have to be prepared for the aftermath. ;) Come cuddle up with Chu for a quick blast of laughs and fun."
"If you haven't watched the viral video of the little panda who sneezed and scared his mother then open up a new window right now and search for it in youtube. It's ok I'll wait...

Now that you've watched that video and said awwww, emailed it to a few friends, its time for you to go to the Library and pick up Chu's Day by Neil Gaiman. This book is insanely cute! Little Chu can't seem to go anywhere without sneezing. And when he sneezes, boy does he sneeze! Little kids will be waiting for the big one and Chu will keep them waiting which will lead to lots of giggles.

VERY different from Neil Gaiman's usual genre of scary, creepy, and silly, but a pleasure to read."

Click here for the original reviews
Related products