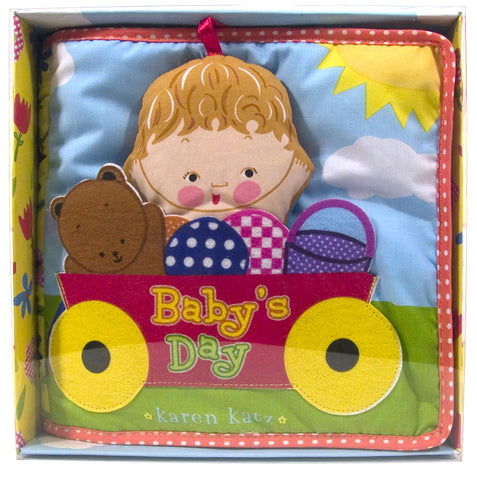 Baby's Day by Karen Katz (Cloth Book)
Play with Baby in this soft, squishy cloth book. Join in Baby's day as Baby wakes up, eats breakfast, plays hide-and-seek, swings high in the air, takes a bath, reads a book, and goes night-night. What fun for babies of all ages!
*Despite our best efforts to predict the demand for books, the magical spells we use sometimes fail us. So to check if we have the book in-stock before you place your order, contact us at 6702 2452 or drop us an email at myimaginationkingdom@gmail.com
Reading Level: 0+
Reviews:
"This is a nice sturdy book with colorful drawings of babies with some part of their body hidden. Each page asks, "Where is baby's ...?" Toddlers delight in lifting the flaps to find the hidden pictures. The pictures are bright and cute with eye-catching fabric and wallpaper patterns. A very attractive book, and perfect for that stage when toddlers become fascinated with their belly buttons! My 17 month old has really enjoyed this book. It can be very helpful in getting kids to name body parts, and it's fun for both the baby and the parents to read. Highly recommended."
"Both of my children (now 18 months and 3) learned many body parts from this book, which encourages children to lift the flaps and search for babies' hands (under the bubbles!), toes, and even belly buttons. The illustrations are colorful and simple, which is very engaging for a 12-18 month old. I also love the focus on learning spatial relations (behind, under, etc.), and the great fine-motor skill practice that comes from lifting these oversized flaps. The flaps are as sturdy as most, but they will eventually separate from the book, o keep your wide scotch tape handy!"

Click here for the original reviews
Related products