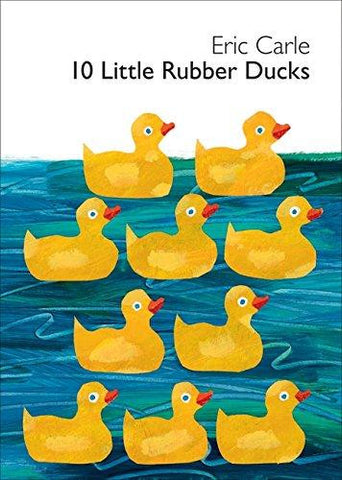 10 Little Rubber Ducks by Eric Carle (Board Book)
The rubber ducks were sent to the ocean by a storm. One lost his way and was adopted by a mother duck. Can he squeak like other ducks?
*Despite our best efforts to predict the demand for books, the magical spells we use sometimes fail us. So to check if we have the book in-stock before you place your order, contact us at 6702 2452 or drop us an email at myimaginationkingdom@gmail.com
Reading Level: 2+
Reviews:
"10 Little Rubber Ducks was a great story with fantastic art as well. In the beginning it is factory workers packaging rubber ducks. On the way shipping them at sea they fall overboard. The ducks all then start floating in all direction. One floats to the North and finds a polar bear, one floats to the west and finds a dolphin, one floats to the east and finds a seal and the other floats south and finds a flamingo. I thought this book was awesome on the creativity, having the ducks all seperate and floating in different directions teaching chilren North, West, South and East, as well as including the animals you would find in those areas. The last duckling finds an actual duck and its ducklings and floats along the sea with them. This book seemed to be a number book, teaching children numbers with the rubber ducks, as well as direction. This was a book for young readers anywhere from k-5. I rated it well because it helps children learn numbers and direction with a cutre story and terrific art. "
"This story was inspired by a real event where there was a storm and 28,800 bath toys were lost at sea when a container load fell overboard and all the people who have been looking for them since this happened. Oceanographers have been following their paths to study currents etc. Beautiful artwork by Eric Carle."
Click here for the original reviews
Related products