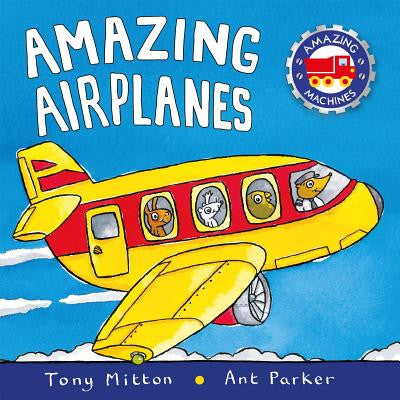 Join our wacky animal crew for the flight of a lifetime! From the airport terminal to the flight deck, the zippy text and zappy art take children through how a plane flies, safety rules, in-flight entertainment and air traffic control. This action-packed picture book will delight all children who love things that go!
*Despite our best efforts to predict the demand for books, the magical spells we use sometimes fail us. So to check if we have the book in-stock before you place your order, contact us at 6702 2452 or drop us an email at myimaginationkingdom@gmail.com
Reading Level: 4+
Reviews:
"Fantastic book for when a kid is going to travel by plane. It explains the parts of the plane and what to do from when you get to the airport till you land."
"Amazing Aeroplanes is a lovely book written by Tony Mitton and illustrated by Ant parker. I read the book to my reception class as we had just visited Duxford Air Museum. The children really enjoyed the story and the pictures were great for asking children about the things they had learnt at Duxford such as the different parts of the aeroplanes. The book is also a brilliant introduction to rhyming literature as it is set out as a long poem and this could certainly be used as a template for older children to begin their own work. The book is part of a series called 'Amazing Machines' and I certainly aim to become familiar with the other titles I just wish I'd found them earlier as we were doing a topic on transport!"
Click here for the original reviews
Related products